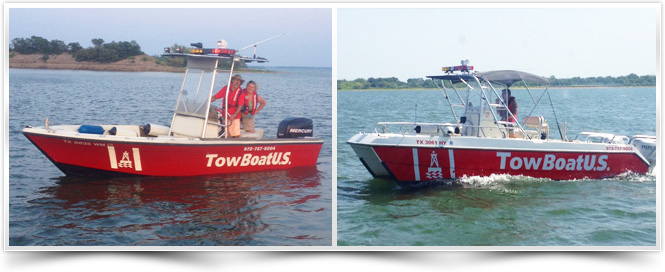 Reliable Boat Towing Services
TowBoatU.S. Lake Lewisville provides On-the-Water assistance. We are a 24/7 reliable service provider. We know Lake Lewisville and can get you out of your emergency situation. Whether you need a jump start or fuel drop. Do you need an on the water tow, are you taking on water? No problem we have the right equipment and staff to handle any job. We also offer diving services to recover an item dropped over board. Our experience ensures your vessel will be cared for properly.
Boat Services Include:
BoatU.S. over

On-the-Water towing, jump starts, fuel drops, prop disentanglement,
soft ungroundings
Toll free Nationwide 24-hour dispatch
One membership for all your boats...owned, borrowed, or chartered

Upgrade your membership to Unlimited for only $48 per year and NEVER PAY FOR A TOW!

Join BoatU.S. or go to membership page for detail information

Similar to a roadside auto club, BoatU.S. offers on-the water assistance plans at low cost for boating. Membership in Boat Owners Association of the United States (BoatU.S.) includes a wide variety of benefits including BoatU.S. magazine subscription, savings on insurance, charter travel, boat graphics, rewards on West Marine purchases and much more!